which children's storybook character are you?

this quiz was made by colleen
It is cool and cloudy today, and there were actually quite a few visitors to the gallery today. Almost a steady stream. Pockets of boredom, but definitely good foot traffic. People like Dez's art and that is nice. Of all the paintings that sold, two the collectors just had to have. So when people come in I have been having to cross off the titles on the titlesheet to avoid mass confusion.
I dare someone to buy this and tell me what it is like. See what can happen when you spend all day surfing the internet.
Since I started writing this, two more people came in to look at art. Also, earlier, two artists who are in the Summer Group Show here came by to pick up their boxes. To recap, I found a pile of old wooden boxes slightly reminiscent of Joseph Cornell, so i am having 14 artists transform them into artworks for a show that will ostensibly be an homage to Cornell (or, cynically, a lame attempt to freeload off his reputation).
So far the artists for that show are:
LISA ADAMS
LAVIALLE CAMPBELL
MICHELLE FIERRO
MARTIN GANTMAN
ED GIARDINA
MARK HOUSLEY
BARBARA KERWIN
MARION LANE
AMITIS MOTEVALLI
PAUL PAIEMENT
LUCAS REINER
ADAM TERAOKA
There a re a few that i asked that I have yet to hear form. Also, a few i asked could not do it because of scheduling conflicts. The show opens here on June 22.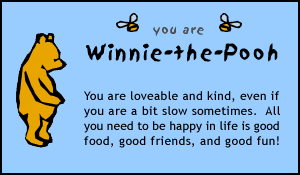 Take the 100 Acre Personality Quiz!
This entry was posted on Saturday, April 27th, 2002 at 4:13 pm and is filed under . You can follow any responses to this entry through the RSS 2.0 feed. Both comments and pings are currently closed.